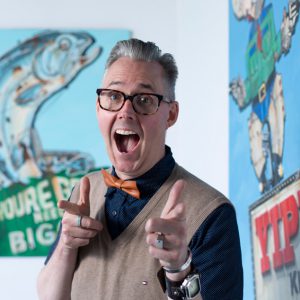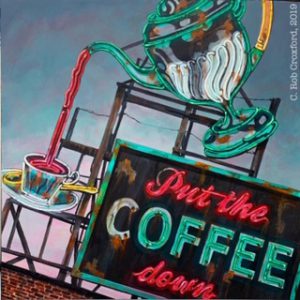 Rob Croxford
Rob has been working full-time on his art since 2004. In that time he has rebuilt from a devastating studio fire, painted over 1600 works of art and shown in over 160 juried exhibitions including; The Toronto International Art Fair, The Artist Project and The One of a Kind Show. Rob is represented in a few Ontario and US galleries, is in the permanent City of Toronto Art Collection, and numerous private collections all over the world. His art has been in a bunch of Toronto magazines, on the cover of Quill & Quire magazine and he is even featured in a coffee table book! You can find his merch at several Ontario retailers including The Spacing Store & Sonic Boom! Rob has been profiled in the press, on blogs and by The Jealous Curator (which is kind of a big deal).
Rob Croxford paintings are a carnival of colour and whimsy! His vintage-inspired work is instantly identifiable, and his clever approach to art merges pop culture, nostalgia typography and humour.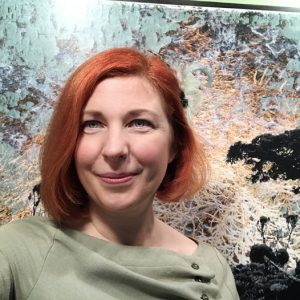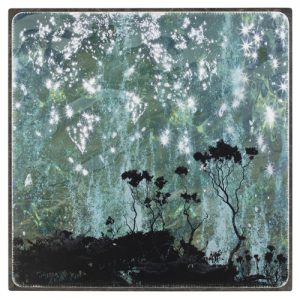 Jessica Lin
Jessica Lin is a Toronto-based photographic artist with a love of travel and adventure. Trips to Ireland, England, Scotland, Mexico, Spain, Italy, Japan, Cuba, and the Azores islands have built up her library of images capturing these other worlds. Jessica extracts elements from her various photographs and recomposes them to create images with surreal layers, and turn places into fantasies. She created her first collection in 2012 using images from her trip to France, which she exhibited at the Queen West Art Crawl in Toronto that year.
Since that time, Jessica has participated in many art fairs across Ontario, and her work is now represented by five Canadian galleries, including the Art Gallery of Ontario's Rental & Sales Gallery. In 2018, Jessica was awarded Best in Show at the Ontario Society of Artists' 145th Annual Open Juried Exhibition.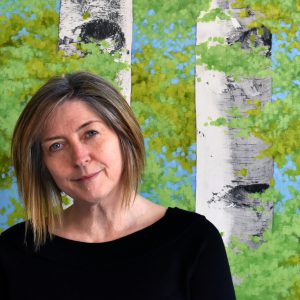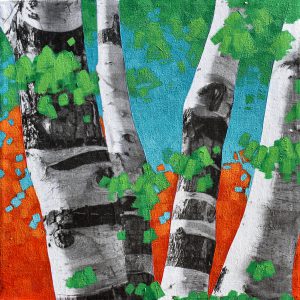 Karen Taylor
In 2004, Karen escaped from the cold, rainy weather of Scotland to settle here in Toronto. Three years later she began exhibiting her abstract landscapes and is part of collections across North America and Europe. Her current mixed media work draws on her background of print making, photography and fabric art.
In addition to being a member of the prestigious Ontario Society of Artists, she is the founder of local abstract art groups Colourshift Collective and SolidColour with which she exhibits regularly.